Based on our strength of experience, Roty & Sons has designed devices to manage and optimise cutting or drilling. Our range of conveyor tables, stops and feed systems can be installed upstream or downstream of any drilling, sawing, punching or cutting machine.
We offer a wide range of products with numerous possibilities in terms of width, length, load and level of precision.
Depending on your production needs, we can help you choose a more or less elaborate system: from the "simple" roller conveyor (TRT range) to the automatic feed system (VISUMATIC range).
Our roller conveyors equipped with the measuring stops will help you to gain in productivity, allowing you to work with high precision and to change length quickly between cuts.
Our industrial conveyors are divided into three categories according to the weight, lengths and widths of the materials to be cut: TRT roller table (light loads), TRS roller table (heavy loads) and TAB ball table (extra heavy loads).
Our tables can be used at the entry or exit of your cutting, sawing machines, etc.
ROLLER FEED CONVEYOR: light loads
Metal roller conveyor: TRT for light loads from 60 to 150kg/m.
ROLLER INPUT AND OUTPUT CONVEYOR: heavy loads
Welded roller tables: TRS for heavy loads from 150 to 250 kg/m.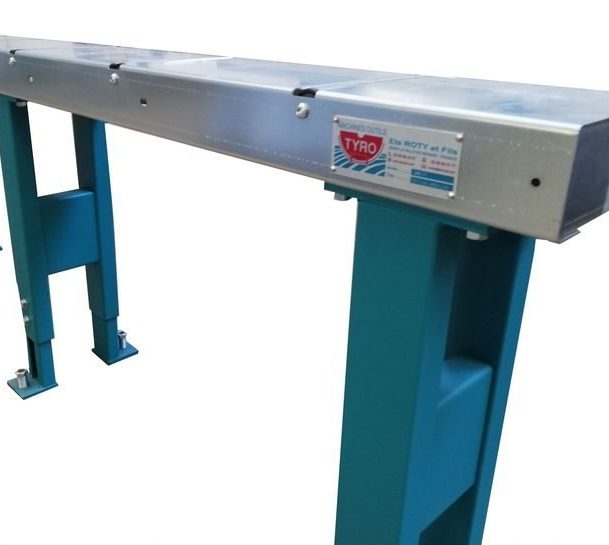 I WANT TO KNOW MORE ABOUT ROLLER CONVEYORS
Manual or automatic positioning stops ensure the correct length setting of the materials to be cut (aluminium, steel, Inconel, stainless steel, etc.). It is an essential tool to be placed on your industrial saws/chainsaws or punching machines in order to improve the operators productivity.
Equipped with a digital display, the user reduces his machine set-up time. The use of a measuring stop increases the cutting accuracy.
Our cut-to-length stops can be installed on any machine in your workshop. ROTY-TYRO also manufactures roller and ball conveyors on which our stops can be installed.
Choose from our manual length stops from our GUIDAL or VISIONIC range.
Our manual measuring stop GUIDAL is retractable  and can be installed on your existing equipment or on one of our ROTY-TYRO machines.
Our positioning VISIONIC stop is very easy to use thanks to its handwheel and digital display.
PROGRAMMABLE MOTORISED MEASURING STOPS
Discover our ranges of TYRObut and VISUMATIC programmable motorized length stops.
Our TYRObut touch screen motorised cut-to-length stop is very easy to use and offers many possibilities in lengths and widths.
Our VISUMATIC length stop can be used in two ways: as a measuring stop or as a feed system.
I REQUEST INFORMATION ON THE STOPS