MOTORISED MEASURING STOP – VISUMATIC
VISUMATIC is a NC length measuring stop for the automation of sawing, drilling, punching, etc. stations.
In bar feed mode, the operator places the profile in the clamp and starts the cycle automatically.
The VISUMATIC motorised length measuring stop is available in two versions: standard and heavy.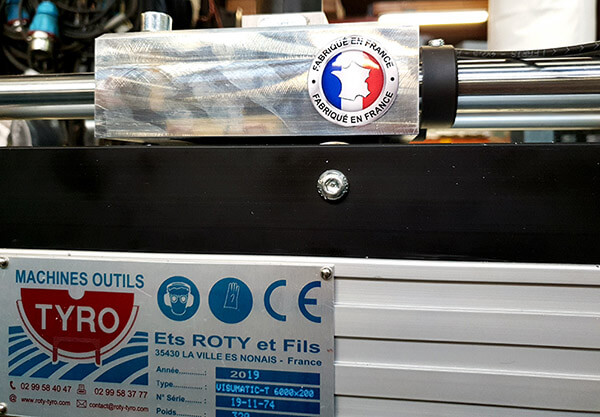 TECHNICAL DATA SHEET for  DIGITALLY CONTROLLED LENGTH STOP – PUSHER VISUMATIC
VISUMATIC MOTORIZED STOP WITH DIGITAL RULER CHARACTERISTICS
Carriage guide by precision rollers, on hardened 63 HRC and rectified rails
Driven by brushless servo motor and precision pinion / rack and pinion without backlash
Closed loop control
Width of the rollers: 200 mm or 400 mm
Protective metal sheet between rollers.
Horizontal conveyor made of extruded aluminium
Movement speed: 400 mm/s.
Resolution: 0,01 mm
precision: ± 0,1 mm per meter.
Withdrawal controllable from the console and on the terminal block
Manual removal of the length stop
Adjustable feet height: 800 to 970 mm (other dimensions on demand)
Other setting values on request
VISUMATIC NUMERICAL COMMAND caracterisctics
5,7'' colour touch screen
100 programs of 96 lines or 16 pages of 6 lines
Absolute or relative measures in the same program
Modifiable settings: origin – speed – ramps – tool thickness, etc.
Menus accessible by tabs
Integrated mini-PLC available to the customer to operate the host machine
VISUMATIC OPTIONAL EQUIPMENT
Manual gripper opening: 65mm
Pneumatic gripper opening: 200mm or 400 mm
Adaptation for existing machine automation
Ethernet kit for Excel file transfer
3D pneumatic gripper for fragile profile
Rear guide: length stop or pusher mode only
Barcode reader + software
8″ touch screen
I choose a VISUMATIC motorised stop