Our TRT roller conveyors consist of welded, powder-coated, height-adjustable feet and a sheet metal base on which the rollers are placed.
The TRT roller conveyor is easy to install. It can be used as the input or output on any machine (sawing machines, drilling centres, punching machines, etc.) from the ROTY-TYRO range or other manufacturers.
This roller conveyor model is suitable for the mechanical, metal construction and joinery industries.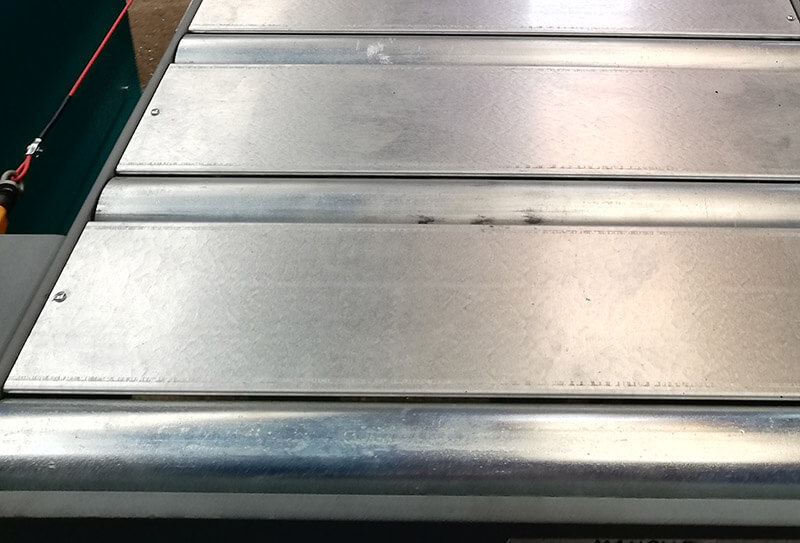 TRT ROLLER CONVEYOR FOR LIGHT LOADS TECHNICAL SHEET 
Conveyor made of a module of 2 or 3 meters long, connectable to each other (via its feet).
Steel rollers Ø40 or Ø70mm
Roller pitch : 333mm
Width : 200, 300 or 400mm
Load : 60kg/m in Ø40mm or 150kg/m in
Ø70mm
Adjustable height : 740 to 1100mm
This conveyor can be adapted at the front or the rear of a circular saw or any other
equipment installed in your factory
OPTIONAL TRT ACCESSORIES
Measuring stop with ruler or LCD: our model GUIDAL
Centering device for holes
Rear guide, height : 70mm
PVC rollers Ø40mm
I AM INTERESTED IN THE TRT ROLLER TABLE