GUIDAL – MANUAL RETRACTABLE STOP
Our GUIDAL cut-to-length stop is delivered and/or  installed on one of our roller tables with sheet metal (TRT range) or welded (TRS range) rollers.
Installation is simplified as there no electrical connection required. To read the measurement, simply refer to the ruler or a LCD meter (battery operated).  The GUIDAL stop slides on a slide installed laterally on your conveyor, operated by a quick release handle. It is available in any lengths from 500 to 7000mm.
Its advantage: the stop is retractable, allowing quick adaptation of the workstation.
To meet all customer requirements, this retractable stop is available in two versions: standard and heavy.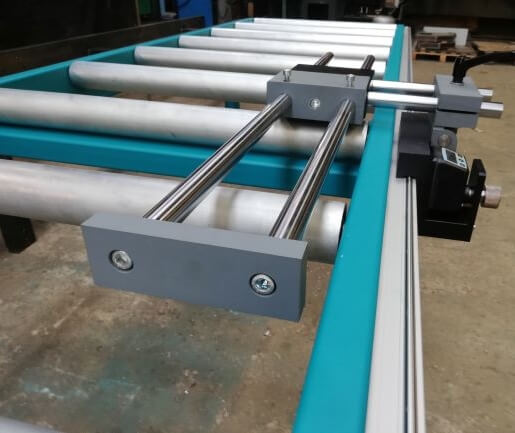 MANUAL length stop GUIDAL TECHNICAL DATA SHEET
STANDARD EQUIPMENT FOR LENGTH STOP GUIDAL
Structure made of extruded aluminium profile
Rectified steel guides
Precision treated rollers
Locking handle
Quick travel handle
Calibratable length stop on any machine
Available in length: 500 to 7000 mm
Joining possible beyond 7000mm
REFERENCES
STD LCD GUIDAL – max. load 50 kg or Heavy LCD handlebar – max. load 300 kg
Graduated guide or NC guide (max. load 50 kg)
For pre-drilled bars: Special guide
I choose GUIDAL MANUAL stop