Drilling MACHINE WITH NUMERICAL COMMAND FOR LONG LENGTH PARTS
CP 220 – 420 is the ideal CNC machine for the production of finished parts from bars. This multi-function drilling centre can carry out multiple operations: drilling, tapping, spotfacing, core drilling, milling, clipping, sawing.
The CP220 or CP420 multifunction drilling bench is suitable for working on any type of profile (round, square, rectangular) and any type of flat iron (steel, stainless steel or plastic) along the X and Y axes. The operator loads the profile into the VISUMATIC's feed clamp and can start production automatically.
A high speed option is available on this machine, it is useful depending on the materials to be drilled and/or the type of machining to be carried out.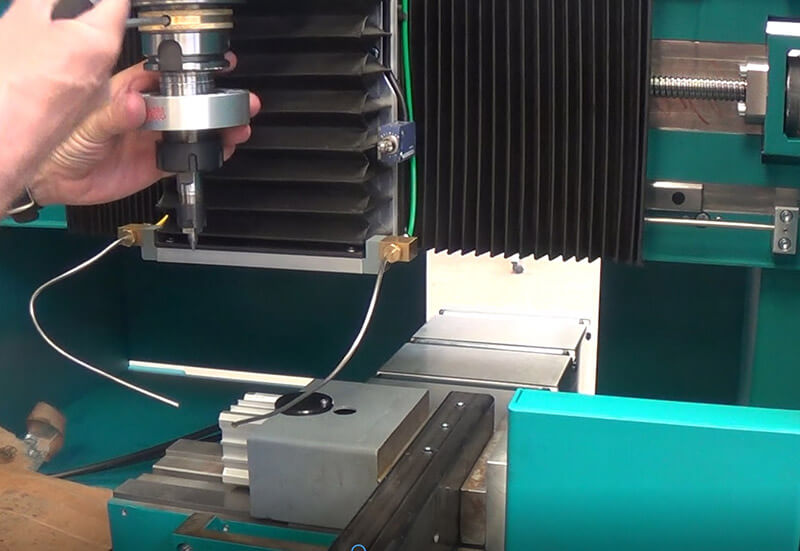 TECHNICAL DATA SHEET DRILLING & AUTOMATIC BAR ADVANCEMENT
CP 220 – CP 420
CHARACTERISTICS Drilling centre CP 220 - CP 420
Drilling capacity:  standard at 25 mm, high speed at 25 mm
Longitudinal length X : 1000 to 8 000 mm, speed : 24 m/mn
Transversal length Y : 200 to 400 mm,
speed : 6 m/mn
Vertical length Z : 290 mm, speed: 6 m/mn
Maximum drilling capacity:
– steel : 25 mm
– stainless steel: 20 mm
– aluminium : 20mm
Maximum aluminium tapping capacity: 14 mm
1 or 2 heads
Drive motors : 5,5 kw
Variable speed: 300 to 3000 rpm controlled by numerical control (NC)
Drilling stroke: 150 mm (total: 290 mm)
Spindle nose HSK63 on each head with quick manual changing tool by ¼ turn
Pneumatic clamp with opening: 200 to 400 mm
Transversal length: 400 mm
FEEDING BY NUMERICAL COMMAND CP 220 - CP 420
Carriage guidance by precision rollers on hardened and ground guides
(63 HRC)
Table width: 200 or 400 mm in extruded aluminium, with rollers
Ø40mm for 200 pitch
Safety metal sheet between each rollers
Automatic adjustment of the rack and pinion set.
Movement speed adjustable: 0 to 24 m/min
 Length: 1000 mm to 8000 mm
Pneumatic clamps with adjustable opening :0 to 200 mm or 0 to 400 mm
NUMERICAL COMMAND CHARACTERISTICS
Automatic reference search
Management of tool lengths
Standard programming:
– Absolute or relative movement
– Absolute movement + machining
– Relative movement + machining + repetition
– Planned stop for tool change
Program memory : 900 K characters
Optimisation of hollow profile drilling
Link with RS232
ASK FOR MORE INFO ABOUT AUTOMATIC DRILLING